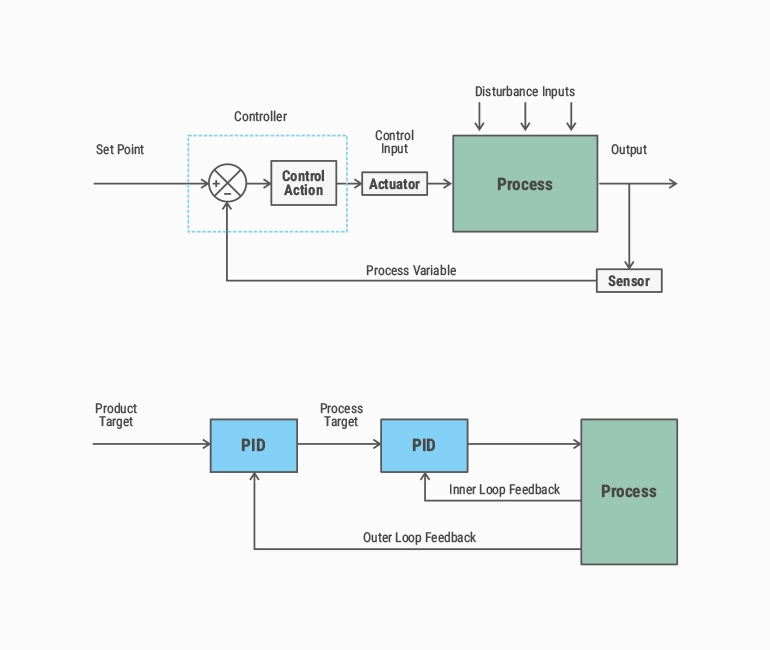 PID control provides a control loop mechanism employing feedback. A PID controller continuously calculates an error value as the difference between the desired setpoint (SP) and the measured process variable (PV ) and applies a correction (u) based on proportional, integral, and derivative terms (denoted P, I, and D respectively).
Voltage Control is a real-time closed-loop reactive sputtering process control method used for

high-speed precision reactive gas flow control,
high-rate sputter deposition of compound films,
continuous operation in the metastable "transition" mode,
reactive gas flow control while sputtering in the "ceramic" mode.

Voltage Control enables dramatic throughput improvement compared to RF sputtering. Optimisation of the working-point leads to substantially enhanced film properties.
Fast feedback control enables rapid and precise mass-production of thin films, such as metal oxides and nitrides.
Intelligent automation coupled with fast PID makes the process of applying the Voltage Control and Reactive Gas Flow Control methods effortless.
Nova Fabrica Inteleg® FBC systems fuse seamlessly with production lines in intelligent factories. They control actuators (e.g. mass flow controllers or plasma process power supplies) by sensing the sputtering target voltage and automatically adjusting the actuator output precisely and at high speed. As a result, fixing the reactive sputtering process at an otherwise unstable working point throughout the production run is a breeze. The result is a high-rate deposition and consistent film composition while avoiding target poisoning.
Coating technologies are becoming increasingly complex as performance and environmental requirements change. You develop new materials and layer stacks to address the current needs. Enhancing your existing and new coater's process monitoring and control capabilities is critical to increasing product value, coater yield and reducing the overall ownership cost.
PID controllers are present extensively all over the process and manufacturing industries. Problems do arise with generic PID controllers. For example, high-frequency sensor noise problems can become severe due to the presence of the D component of the PID controller.
Inteleg® FBC uses proprietary controller structure that enables obtaining benefits of the derivative action without taking the derivative of the error function. This overcomes many of the significant problems of derivative control.
Inteleg® FBC uses cascade control to tie together two (or more) discrete control loops. The first control loop provides the Set Point for the second PID control loop. Such a system can provide complete process and product feedback control in vacuum coating systems.
Inteleg® FBC systems provide precise and repeatable process control with the reliability needed for modern 24/7 production. Process engineers and technologists can leverage new capabilities with unprecedented speed, measurement & timing precision, and control accuracy.
Process reproducibility and long-term stability
Unprecedented speed and measurement precision
Automated calibration and system health checks
Dramatic process improvements
Scrap prevention, down-time prevention
OEM integration, cost efficiency
Rugged design in a single compact unit