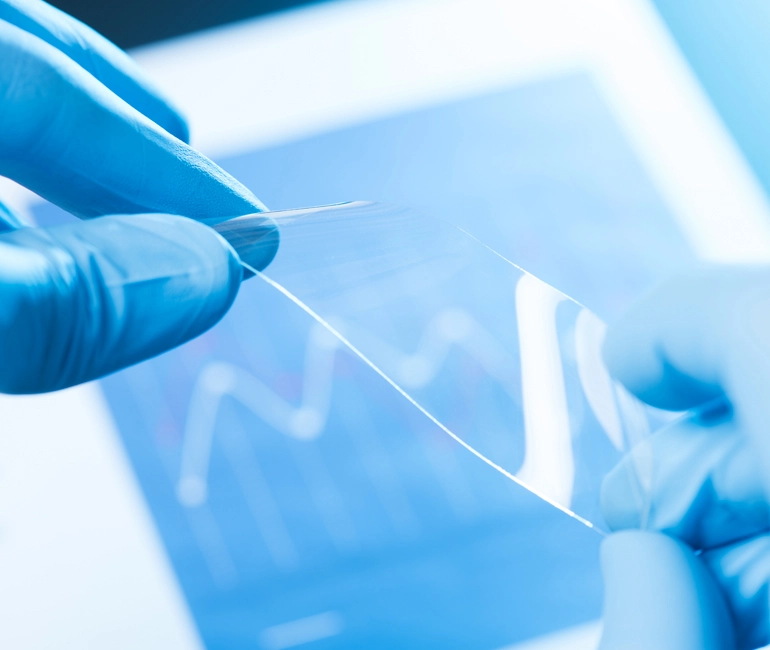 The new contact-less sheet resistance measurement method provides ultra-low-drift real-time measurement of sheet resistance and film thickness. The technology can be employed for serial production and routine laboratory use.
The new method automatically recognises the measured material and informs instantly of layer quality deviations.
Multi-channel fast feedback (PDF / PID) process control (e.g. power level, gas flow) keeps layer properties constant, optimises quality, prevents scrap, and maximises yield.
This technology ensures lasting operation of tens of thousands of hours, is highly reliable and is low cost.
The fully digital nature of the solution obsoletes analogue signal cables - an additional bonus that enables tidy and compact field deployment.
Nova Fabrica Inteleg® Inline R systems fuse seamlessly with thin-film production lines in intelligent factories. They monitor sheet resistance and film thickness as well as control actuators (e.g. mass flow controllers, plasma process power supply or system working-point) in a closed-loop control fashion, automatically adjusting the actuator output precisely and at high speed. As a result, fixing the sheet resistance at a stable working point throughout the production run is a breeze. The result is consistent thin-film (e.g. TCO layer, metal layer, encapsulated layer) electrical properties.
Drifting sheet resistance measurement systems cause havoc in any development and production environment. Increasingly complex coating designs and evolving performance and environmental requirements demand robust sheet resistance measurement solutions. You develop new materials and layer stacks to address the current needs. Enhancing your existing and new coater with ultralow- drift sheet resistance measurement capabilities is critical to increasing product value and coater yield and reducing the overall ownership cost.
Lift your production processes to the next level of performance and yield. Inteleg® Inline R solutions provide ultra-low drift, precise and repeatable process control with the reliability needed for modern 24/7 operations.
Unique and customer-driven solutions can drastically increase performance. Inteleg® Inline R solutions offer an ever-growing envelope of advantages, ranging from automated AI-based material recognition and scrap prevention.
24/7 operation, <0.02%/h drift
Repeatability <0.5%
Real-time, 500ms update time
Rugged design, high vacuum compatible
Easy installation and OEM integration
Process and yield improvements
Scrap prevention
Cost efficiency